Hello everyone !! How are you today?? It's Sunday, I bet you have your excitement to spend your Sunday. But here I am, going to tell about a few books I read in the first 31 days of 2018 aka January. I was on my holiday back in January and tomorrow, as in February 5th, I'll be back to college which am so thrilled, I guess. Speaking of my reading challenge, I only read 7 books in January which does mean those brings me to 32% toward my reading challenge for 2018 cz yeah it was holiday, but I had to do an internship as well. Apparently it ain't a big deal, but I only got time to read once I was home and it's pretty late already.
On this new year wrap up, I will also make some difference on my wrap up though. I'll put the book details in the post, exclude my review. So you guys don't have to visit GoodReads to read the book details, but if you want to read my review, you could visit my GoodReads account or the review I have posted in this blog.
So, let's move to the books I read in January were :
1. The Temptation of Adam by Dave Connis (MY RATING : 🌟🌟🌟🌟) 
Title : The Temptation of Adam
Author : Dave Connis
GoodReads Rating : 3.8
Edition : Hardback
Pages : 224
Published November 21st 2017 by Sky Pony Press
Description :
Adam Hawthorne is fine.
Yeah, his mother left, his older sister went with her, and his dad would rather read Nicholas Sparks novels than talk to him. And yeah, he spends his nights watching self-curated porn video playlists.
But Adam is fine.
When a family friend discovers Adam's porn addiction, he's forced to join an addiction support group: the self-proclaimed Knights of Vice. He goes because he has to, but the honesty of the Knights starts to slip past his defenses. Combine that with his sister's out-of-the-blue return and the attention of a girl he meets in an AA meeting, and all the work Adam has put into being fine begins to unravel.
Now Adam has to face the causes and effects of his addiction, before he loses his new friends, his prodigal sister, and his almost semi-sort-of girlfriend.
2. Breaking Point by Shane Brown (MY RATING : 🌟🌟🌟🌟)
Title : Breaking Point
Author : Shane Brown
GoodReads Rating : 3.67
Edition :Kindle editon
Pages : 217
Published February 4th 2013 by SLB
Description :
James Marsh is sixteen years old and in his final year of high school. He has been suffering from bullying for months at the hands of Jason Mitchell and his friends but, as they return to school after the Easter break, Jason takes his tormenting to a whole new level. As James struggles to cope, Andrew Mitchell, a teacher at the school, finds his hands tied when he tries to help him.
"Breaking Point" is a novel about homophobia in our schools, and talks about the sides of bullying which are rarely talked about by the victims, the schools or the media. Recommended for 14 years and upwards due to some more adult themes.
3. Schizo by Nic Sheff  (MY RATING : 🌟🌟🌟🌟🌟)
Title : Schizo
Author : Nic Sheff
GoodReads Rating : 3.71
Edition : Paperback
Pages : 272
Published September 8th 2015 by Speak
Description :
The fascinating, shocking, and ultimately quite hopeful story of one teen's downward spiral into mental illness by the bestselling author of Tweak.
Miles is the ultimate unreliable narrator—a teen recovering from a schizophrenic breakdown who believes he is getting better . . . when in reality he is growing worse.
Driven to the point of obsession to find his missing younger brother, Teddy, and wrapped up in a romance that may or may not be the real thing, Miles is forever chasing shadows. As Miles feels his world closing around him, he struggles to keep it open, but what you think you know about his world is actually a blur of gray, and the sharp focus of reality proves startling.
Written by the New York Times bestselling author of Tweak, Schizo is the fascinating, and ultimately quite hopeful, story of one teen's downward spiral into mental illness as he chases the clues to a missing brother. Perfect for fans of Thirteen Reasons Why, The Perks of Being a Wallflower, and It's Kind of a Funny Story.
"This spare book is a well-written, but painful, read, as readers come to understand the hopelessness Miles feels about his life and his future."—VOYA
"In his first novel, memoirist Sheff (Tweak) provides an insightful perspective on one teen's struggle with mental illness."—Publishers Weekly
4. These Gentle Wounds by Helene Dunbar (MY RATING : 🌟🌟🌟)
Title : These Gentle Wounds
Author : Helene Dunbar
GoodReads Rating : 4.07
Edition : Paperback
Pages : 307
Published May 8th 2014 by Flux
Description :
Sometimes I wish I'd lost a leg or something. Everyone can understand that. They never get it when what's been broken is inside your head.
Five years after an unspeakable tragedy that changed him forever, Gordie Allen has made a new home with his half-brother Kevin. Their arrangement works since Kevin is the only person who can protect Gordie at school and keep him focused on getting his life back on track.
But just when it seems like things are becoming normal, Gordie's biological father comes back into the picture, demanding a place in his life. Now there's nothing to stop Gordie from falling into a tailspin that could cost him everything—including his relationship with Sarah, the first girl he's trusted with the truth. With his world spinning out of control, the only one who can help Gordie is himself . . . if he can find the strength to confront the past and take back his future.
5. We Are the Ants by Shaun David Hutchinson ( MY RATING : 🌟🌟🌟🌟🌟)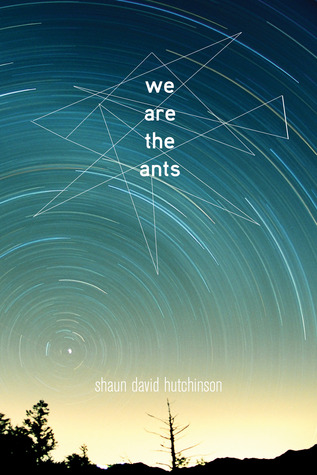 Title : We Are the Ants
Author : Shaun David Hutchinson
GoodReads Rating : 4.21
Edition : Paperback
Pages : 455
Published January 19th 2016 by Simon Pulse
Description :
From the author of The Five Stages of Andrew Brawley comes a brand-new novel about a teenage boy who must decide whether or not the world is worth saving.
Henry Denton has spent years being periodically abducted by aliens. Then the aliens give him an ultimatum: The world will end in 144 days, and all Henry has to do to stop it is push a big red button.
Only he isn't sure he wants to.
After all, life hasn't been great for Henry. His mom is a struggling waitress held together by a thin layer of cigarette smoke. His brother is a jobless dropout who just knocked someone up. His grandmother is slowly losing herself to Alzheimer's. And Henry is still dealing with the grief of his boyfriend's suicide last year.
Wiping the slate clean sounds like a pretty good choice to him.
But Henry is a scientist first, and facing the question thoroughly and logically, he begins to look for pros and cons: in the bully who is his perpetual one-night stand, in the best friend who betrayed him, in the brilliant and mysterious boy who walked into the wrong class. Weighing the pain and the joy that surrounds him, Henry is left with the ultimate choice: push the button and save the planet and everyone on it…or let the world—and his pain—be destroyed forever.
6. Struck By Lightning: The Carson Phillips Journal by Chris Colfer ( MY RATING : 🌟🌟🌟🌟)
Title : Struck By Lightning: The Carson Phillips Journal
Author : Chris Colfer
GoodReads Rating : 3.86
Edition : Paperback
Pages : 272
Published November 20th 2012 by Little Brown Books for Young Readers
Description :
Struck By Lightning: The Carson Phillips Journal follows the story of outcast high school senior Carson Phillips, who blackmails the most popular students in his school into contributing to his literary journal to bolster his college application; his goal in life is to get into Northwestern and eventually become the editor of The New Yorker. At once laugh-out-loud funny, deliciously dark, and remarkably smart, Struck By Lightning unearths the dirt that lies just below the surface of high school. At a time when bullying torments so many young people today, this unique and important novel sheds light with humor and wit on an issue that deeply resonates with countless teens and readers.
7. Suicide Watch by Kelley York ( MY RATING : 🌟🌟🌟🌟)
Title : Suicide Watch
Author : Kelley York
GoodReads Rating : 4.27
Edition : Paperback
Pages : 220
Published December 20th 2012 by CreateSpace
Description :
18-year-old Vincent Hazelwood has spent his entire life being shuffled from one foster home to the next. His grades sucked. Making friends? Out of the question thanks to his nervous breakdowns and unpredictable moods. Still, Vince thought when Maggie Atkins took him in, he might've finally found a place to get his life—and his issues—in order.
But then Maggie keels over from a heart attack. Vince is homeless, alone, and the inheritance money isn't going to last long. A year ago, Vince watched a girl leap to her death off a bridge, and now he's starting to think she had the right idea.
Vince stumbles across a website forum geared toward people considering suicide. There, he meets others with the same debate regarding the pros and cons of death: Casper, battling cancer, would rather off herself than slowly waste away. And there's quiet, withdrawn Adam, who suspects if he died, his mom wouldn't even notice.
As they gravitate toward each other, Vince searches for a reason to live while coping without Maggie's guidance, coming to terms with Casper's imminent death, and falling in love with a boy who doesn't plan on sticking around.
That's all my wrap-up for the very first month of 2018. All of them are young adult cz I really am into that genre nowadays, no reason though. And I am planning on reading every book with a boy/guy as the main character. That's pretty much a challenge to me. Anyways how's your #WrapUpJanuary going? How many books do you read? Any book recommendation for me based on your January Wrap Up? Please tell me on the comment section below. I'm looking forward for it.